B-24 Liberator of the Mighty 8th Backdrop
Manufacture Product Number : HAN-B51072

The Consolidated B-24 Liberator a heavy bomber of the United States Army Air Corps during the Second World War. Armed with 10 .50 caliber machine guns located in turrets and waist gun positions, it could carry a 5,000-pound bomb load for 1,700 miles, giving it a longer range, greater speed, and a bigger payload than the much heralded B-17, Flying Fortress.
Each beautiful WBritain Mini Backdrop is printed in full-color on heavy card stock. The 8.5x5.5" backdrop comes with a separate, fold-out easel. You may choose whether or not to attach it to the back depending on your space and needs.
The WBritain watermark logo shown on the above image will not appear on your backdrop.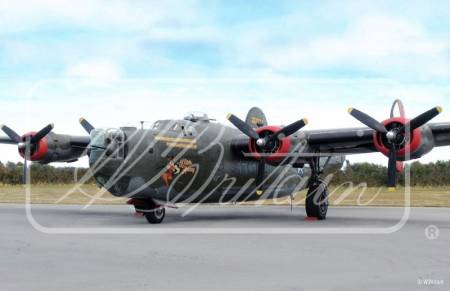 Type
=
Scenic and Diorama Materials
Category =
Scenic and Diorama Products- Pre-Finished
Material =
Paper
Finish =
Pre-painted
Date of Release =
2021-09-07
Status = 1-2 weeks Shipping
This item is not part of our regular inventory. Allow 1-2 weeks for item to arrive at MichToy. Because you are so patient you will automatically receive this item at a 20% discount.
MSRP:
$9.50