Lead Foil 3 in.
Manufacture Product Number : HAN-9651

Hudson & Allen Studio's 3" Wide LEAD FOIL with Adhesive Back is ideal for creating strapping and belting on model figures. The lead base is highly malleable for easy making of the most intricate patterns. Simply cut the lead foil to the size and shape needed, remove the paper backing protecting the adhesive and apply to the model where desired. Because lead is a soft metal if the edge of your cut line is too harsh or crisp, you can simply burnish the edge into a gentle curve with a metal tool. We prefer to use a dental tool called a Woodson #1 for this. We use Cyanoacrylate glue (super glue or CA glue) to permanently adhere the foil to the model.
Once you have finished your model it should be fully primed with a high quality model primer to seal the lead foil before painting.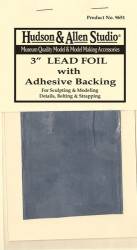 Type
=
Tools and Supplies
Category =
Scratch Building Materials
Date of Release =
2019-07-25h
Status = Out of Stock
Darn it! This item is currently out of stock. You may order this item now and we will notify you when it's available again.
MSRP:
$5.99