Blood Knights
Manufacture Product Number : GWS-91-41

The kit is comprised of 67 plastic components, with which you can assemble 5 Blood Knights armed with either templar lances or blades, and with a choice of helmeted or unhelmeted heads. One can be assembled as a Kastellan unit leader equipped with a unique helmet, winged armour, and mace weapon arm, and one can be assembled as a Standard Bearer. These models are supplied with 5x Citadel 75mm Oval Bases.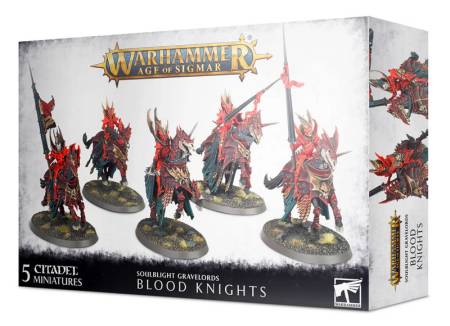 Type
=
Wargaming
Figure Kits, Busts and Accessories
Category =
Wargaming Vehicles and Miniatures
Period =
Fantasy, Fiction, Comics and Legends
Scale =
28mm (1/56 Scale or 1 and 1/8 inches)
Material =
Plastic
Finish =
Unfinished Model Kit
Date of Release =
2021-05-22
Status = New Release - Currently Out of Stock
New Release - Currently Out of Stock Wow! These sold out fast. But fear not as we have more on order. You may order this item now and we will notify you when it's available again. You will receive a 10% discount for this item.
MSRP:
$60.00
$54.0010% off, you save : $6.00