Start Collecting Soulblight Gravelords
Manufacture Product Number : GWS-70-77

This set contains 26 plastic Citadel miniatures, including:
- 1x Wight King on Skeletal Steed
- 5x Black Knights (can instead be built as Nighthaunt Hexwraiths)
- 20x Grave Guard
This set is supplied with 1x 75mm Oval Base, 5x 60mm Oval Bases, and 20x 25mm Round Bases.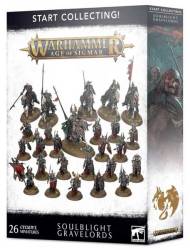 Type
=
Wargaming
Figure Kits, Busts and Accessories
Category =
Wargaming Vehicles and Miniatures
Period =
Fantasy, Fiction, Comics and Legends
Scale =
28mm (1/56 Scale or 1 and 1/8 inches)
Material =
Plastic
Finish =
Unfinished Model Kit
Date of Release =
2021-05-22
Status = Out of Stock
Darn it! This item is currently out of stock. You may order this item now and we will notify you when it's available again.
MSRP:
$95.00