Combat Patrol: Space Marines
Manufacture Product Number : GWS-48-80

This set includes the following units:
- 1x Primaris Lieutenant in Phobos Armour
- 10x Primaris Infiltrators
- 3x Suppressors
- 3x Eliminators
- 1x Primaris Impulsor
All models are supplied with their appropriate bases.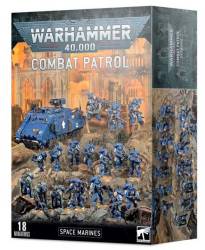 Type
=
Figure Kits, Busts and Accessories
Wargaming
Category =
Wargaming Vehicles and Miniatures
Period =
Space and Sci-Fi
Scale =
28mm (1/56 Scale or 1 and 1/8 inches)
Material =
Plastic
Finish =
Unfinished Model Kit
Date of Release =
2021-05-22
Status = New Release - Currently Out of Stock
New Release - Currently Out of Stock Wow! These sold out fast. But fear not as we have more on order. You may order this item now and we will notify you when it's available again. You will receive a 10% discount for this item.
MSRP:
$140.00
$126.0010% off, you save : $14.00