Rolling Pin with Handle - Sett Pavement 15mm
Manufacture Product Number : GSW-RP-10494

Textured Rolling Pins with handle capable of pressing a continuous repeated pattern on all kinds of sculpting putties, polymer clays, and pastes.
Made of clear PMMA plastic with amazing non-stick properties.
Their small size and the innovative design of their ergonomic handle make them an easy tool to transport and use.
There are different textures available that make them compatible with different modeling scales. The textures are scalable to cover large surface areas. Also, its handle allows us to print textures creating curves to give more realism to the model or base.
Roller Width: 4 cm (1.5 inches)
Roller Length with Handle: 14cm (5.5 inches)
Diameter: 2'5cm (1 inch)
Scale: 54mm-Military (1/35-1/32)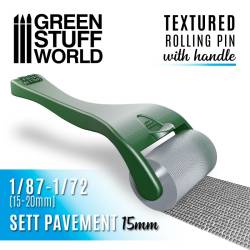 USE INSTRUCTIONS:
1st - Properly mix the putty/clay until ready according to the manufacturer's recommendations.
2nd - Extend the putty/clay on a surface to be textured. For optimal results, make sure you have got a smooth and even surface before impressing with the Rolling Pins. *** We recommend using a plain Rolling Pin for this.
3rd - Depending on the type of putty/clay, it is advisable to wet the Rolling Pin to prevent any sticking.
4th - Slowly move the Rolling Pin applying equal pressure at all points for an even texture.
5th - Trim any excess putty/clay with a sharp knife. It is recommended to do this once it has dried to avoid any deformations in the putty/clay.

Type
=
Scenic and Diorama Materials
Category =
Tools for Scenic Work
Date of Release =
2021-11-05g
Status = Out of Stock
Darn it! This item is currently out of stock. You may order this item now and we will notify you when it's available again.
MSRP:
$14.99