Mr. Almighty Grip II - Extra Grip Parts
Manufacture Product Number : GNZ-GT46

Additional parts for GNZ-GT34 Almighty Clip. 4 pieces each of vertical types and horizontal types.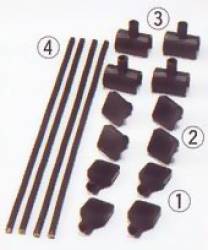 Type
=
Tools and Supplies
Paint, Glues and Finishing Supplies
Category =
Vises and Clamps
Painting Accessories
Date of Release =
2010-01-01
Status = Out of Stock
Darn it! This item is currently out of stock. You may order this item now and we will notify you when it's available again.
MSRP:
$7.99