DMH Plastic Gunfighters II The Ladies
Manufacture Product Number : GGS-DMHP002

"What y'all waiting around for? You think destiny is coming to you?"
DEAD MAN'S HAND is the 28mm skirmish game by Great Escape Games. Bands of tough and wily Cowboys, stoic Lawmen, ruthless Outlaws and crazy Desperados fight for fame and respect in the Old West.
Contains 10 multipart plastic miniatures which can be made in more ways than it's possible for an eleven fingered varmint to count! All the weapons you will need to arm your dangerous bunch are on the sprue, including pistols, three repeater rifles, one shotgun and a rifle as well as a host of other extras to make your gang truly individual. Plastic bases included.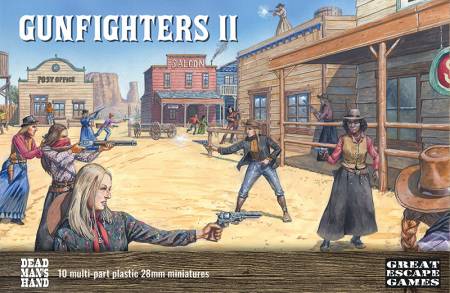 All models are supplied as kits and will need to be assembled and painted.
The picture illustrates how the model should look once completed.
Glue and paint are not included in the kit.

Type
=
Wargaming
Figure Kits, Busts and Accessories
Category =
Wargaming Vehicles and Miniatures
Period =
American Old West
Scale =
28mm (1/56 Scale or 1 and 1/8 inches)
Material =
Plastic
Finish =
Unfinished Plastic Figure Kit
Date of Release =
2022-04-29g
Status = New Release
Normally Stocked, may take up to two weeks for delivery if out of stock. We will notify you of any delays
MSRP:
$24.99