Plasticard Variety Pack
Manufacture Product Number : GFN-GFM440

Plasticard, or Sheet Styrene, is an amazingly versatile material for modeling and converting. The sheets cut easily with a hobby knife and work with both CA glue and polystyrene glue. The Gale Force Nine Variety Pack contains nine 5" x 9" sheets in the most useful thicknesses for your hobby needs. This package contains three .010" thickness sheets (perfect for seals, parchment, and fine detailing), three .015" thickness sheet (great for banners, flags, and miniature details), two .030" thickness sheets (ideal for detailing vehicle models and terrain), and one .060" thickness sheet (awesome for armor plates, decking, and walls).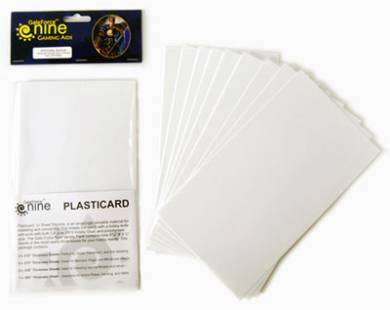 Type
=
Paint, Glues and Finishing Supplies
Category =
Scratch Building Materials
Date of Release =
2010-01-01
Status = Out of Stock
Darn it! This item is currently out of stock. You may order this item now and we will notify you when it's available again.
MSRP:
$11.99