Wild Flowers Set
Manufacture Product Number : GEG-GGSET-WF

Best used to recreate the diversity of colours you expect to see on wild landscapes from every countryside.
Purple heathers, yellow brooms, white heaths, edges spotted with mature brambles - you will be able to reconstruct many natural habitats.
The Wild Flowers Set includes the following flower tufts: Yellow, Dark Purple, White and Blue flowers.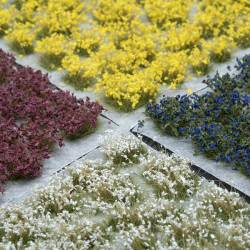 Type
=
Scenic and Diorama Materials
Category =
Terrain, Vegetation, Landscaping - Grass and Turf
Scale =
28mm (1/56 Scale or 1 and 1/8 inches)
Date of Release =
2021-07-17gg
Status = New Release - Currently Out of Stock
New Release - Currently Out of Stock Wow! These sold out fast. But fear not as we have more on order. You may order this item now and we will notify you when it's available again. You will receive a 10% discount for this item.
MSRP:
$14.99
$13.4910% off, you save : $1.50