Gripping Beast (Byzantine) Varangian Guard w/Axes
Manufacture Product Number : GBP-SZ12

Rather fancy Varangain Guardsmen to accompany Harald, Captain of the Varangian Guard, into battle.
You can also field them as regular (if rather show-offy) Varangians in your Byzantine Warband or as Jomsvikings.
Supplied with appropriate separate weapons and plastic bases.
Shields not supplied. Supplied unpainted.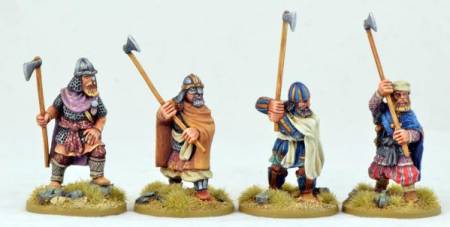 Type
=
Figure Kits, Busts and Accessories
Wargaming
Category =
Wargaming Vehicles and Miniatures
Period =
Dark Ages (Early Middle Ages 400-1000 A.D.)
Scale =
28mm (1/56 Scale or 1 and 1/8 inches)
Material =
Metal Figures Figures- Unpainted
Finish =
Unpainted
Date of Release =
2016-01-20
Status = 2-3 weeks Shipping
This item is not part of our regular inventory but is available to order. Allow 2-3 weeks for item to arrive at MichToy. Because you are so patient you will automatically receive this item at a 20% discount.
MSRP:
$10.50
8.40
20% off, you save : $2.10