FireForge Games - Foot Sergeants (48)
Manufacture Product Number : FRG-FF004

The Foot Sergeants set will allow you to build up to 48 Foot Sergeants miiniatures or up to 24 crossbowmen and 24 Foot Sergeants, in medium armour.
Here are the details:
* Heads - 10 different heads in six sections for a total of 60 heads in the set.
* Bodies - 6 different infantry bodies in very dynamic and realistic poses.
* Melee Weapons - 6 different right arms armed with spears, 2 with swords, 2 axes and 2 maces. Six weapon sections for a total of 36 spears, 12 swords, 12 axes and 12 maces. A huge total of 84 right arms with weapons.
* Crossbow - 4 different sculpted couple of arms with crossbow. You can build up to 24 foot crossbowmen from the set.
* Shields - 4 different shield types and 4 different left arm poses not attached to the shields. There are 48 shields and left arms in the box.
* Various - Sword scabbards and crossbow quivers not attached to the bodies.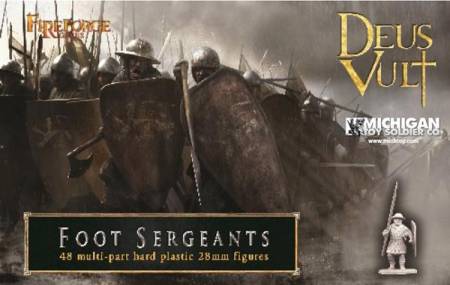 Type
=
Figure Kits, Busts and Accessories
Wargaming
Category =
Wargaming Vehicles and Miniatures
Period =
High Middle Ages-1000-1300 A.D.
Scale =
28mm (1/56 Scale or 1 and 1/8 inches)
Material =
Plastic
Finish =
Unfinished Plastic Figure Kit
Date of Release =
os-2021-11-04
Status = Available
This item is Normally Stocked but may take up to two weeks for delivery if not in stock. We will notify you of any delays
MSRP:
$49.99
49.99