HMS Hood
Manufacture Product Number : FOV-861002A

The "Forces of Valor" range presents affordable, ready-made diecast models of naval warships.
"Forces of Valor" diecast warships feature:
Diecast metal construction with some plastic components.
Rotating turrets, elevating cannons and accurate hull.
Realistic panel lines, antennas, access panels and surface details.
Pad printed markings and placards that won't fade or peel like decals.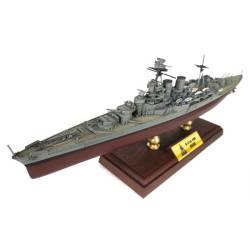 HMS Hood (pennant number 51) was the last battlecruiser built for the Royal Navy. Commissioned in 1920, she was named after the 18th-century Admiral Samuel Hood. One of four Admiral-class battlecruisers ordered in mid-1916, Hood had design limitations, though her design was revised after the Battle of Jutland and improved while she was under construction. For this reason she was the only ship of her class to be completed. Despite the appearance of new and more modern ship designs over time, Hood remained the largest and most powerful warship in the world for twenty years after her commissioning and her prestige was reflected in her nickname "The Mighty Hood".

Type
=
Collectible Armor and Aircraft
Period =
World War 2
Scale =
1/700 Scale
Material =
Die-cast
Finish =
Pre-painted
Date of Release =
2018-01-12
Status = Out of Stock
Darn it! This item is currently out of stock. You may order this item now and we will notify you when it's available again.
MSRP:
$59.99