Krupp 88mm FlaK 18. German Army DAK, El Alamein, North Africa, June 1942, w/8 Figures
Manufacture Product Number : FOV-801008B

Forces of Valor diecast vehicles feature:
• Diecast metal construction with some plastic components.
• Rotating turret, elevating cannon and accurate hull.
• Moving tracks on detailed rotating wheels.
• Realistic panel lines, antennas, access panels and surface details.
• Pad printed markings and placards that won't fade or peel like decals.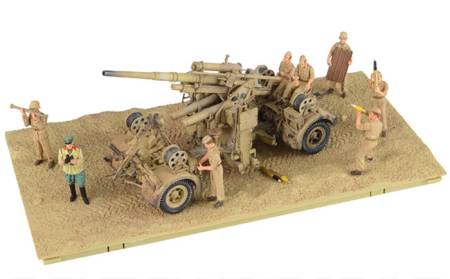 he German 88mm anti-tank artillery gun became infamous during WW2 for its ability to not only target allied armoured units but also airplanes and warships. This led to the technology and design for the 88mm being worked into the Tiger tank series of mighty weaponry.
In post war interviews with allied troops, they claimed that the 88mm "FlaK Gun" was an unfair weapon to be deployed in ground warfare. The word "FlaK" is a contraction of German Flugzeugabwehrkanone meaning "aircraft-defense cannon".
There were four major phase variations of the FlaK gun that were issued model numbers 18, 36, 37 and 41. The 18's barrel was constructed from a single piece of steel. As the gun was mainly used for targetting aircraft, particularly bombers, this turned out to be a major flaw as the fire rate required to hit and bring down allied aircraft would form cracks along the barrel's surface. To counter this problem, the German army developed the 36 model with a sectional barrel to help the longevity of the gun and the speed at which it could be repaired.
Due to supply shortages, particularly when the war started to turn against the Germans, many combinations of gun and cruciform base were used together. For instance, the FlaK 18 gun could be combined with the FlaK 36 cruciform and vice-versa.

Type
=
Collectible Armor and Aircraft
Period =
World War 2
Scale =
1/32 Scale (54mm or 2 1/4 inches)
Material =
Die-cast
Finish =
Pre-painted
Date of Release =
2019-06-12
Status = Available
This item is Normally Stocked but may take up to two weeks for delivery if not in stock. We will notify you of any delays
MSRP:
$89.99