Battlefield in a Box - Cratered Rural Roads
Manufacture Product Number : FLW-BB143


Includes five Pre-painted Cratered Rural Road Sections, one Packet of GF9 Green Grass Static Grass & one Packet of GF9 Meadow Blend Static Grass.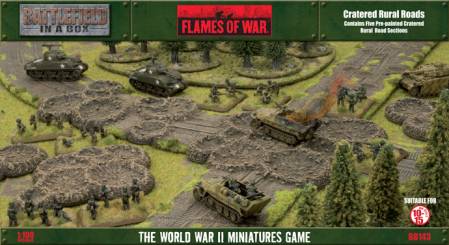 Type
=
Wargaming
Category =
Wargaming Scenics
Period =
World War 2
Scale =
15mm (.6 inches or 1/100 Scale)
Material =
Resin Plastic
Finish =
Pre-painted
Date of Release =
2012-09-02
Status = 2-3 weeks Shipping
This item is not part of our regular inventory but is available to order. Allow 2-3 weeks for item to arrive at MichToy. Because you are so patient you will automatically receive this item at a 20% discount.
MSRP:
$44.99
$35.99
20% off, you save : $9.00