Battlefield in a Box - Desert Sandbags Dug-in Markers
Manufacture Product Number : FLW-BB109

8 tabletop-ready Dug-In Markers, suitable for use with any army in Italy or North Africa. Markers are provided prepainted. Miniatures, scenery, glue and paint not included.
These markers are ideal for showing which of your teams are dug-in. Also during assaults when your troops may leave their foxholes to finish off the enemy you can leave the markers in place for your troops to return to.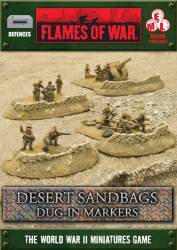 Type
=
Wargaming
Category =
Wargaming Scenics
Period =
World War 2
Scale =
15mm (.6 inches or 1/100 Scale)
Material =
Resin Plastic
Finish =
Unpainted
Date of Release =
2011-09-29
Status = 2-3 weeks Shipping
This item is not part of our regular inventory but is available to order. Allow 2-3 weeks for item to arrive at MichToy. Because you are so patient you will automatically receive this item at a 20% discount.
MSRP:
$18.00
$14.40
20% off, you save : $3.60