Pillory - ONLY 1 AVAILABLE AT THIS PRICE
Manufacture Product Number : FFR-GL-ZUB-001

Resin Pillory
NOTE: Figures sold separately
Dimensions:
Length: 50mm
Width: 50mm
Height: 12mm without the wooden pole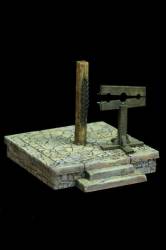 The pranger is a German physical punishment device related to the stocks and the pillory. The Middle Low German word means something that pinches badly. The pranger chained the victim's neck to a pair of leg restraints fastened around the ankles. Often the chain was short so that the offender was placed in an uncomfortable half-kneeling position. In another type of pranger (pillory), the condemned person was tied to a column that stood in the town center for public view. The pranger was only used for public humiliation as punishment, not for painful interrogation or coercion.

Type
=
Scenic and Diorama Materials
Category =
Scenic and Diorama Products- Unfinished
Period =
Medieval World
Scale =
1/72 Scale (22mm or 1 inch)
Material =
Resin Plastic
Finish =
Unpainted
Date of Release =
2011-08-20
Status = Out of Stock
Darn it! This item is currently out of stock. You may order this item now and we will notify you when it's available again.
MSRP:
$26.99