ACW Confederate Battle Honors
Manufacture Product Number : FFR-FR72-ACW-001

6 figures in 6 poses
The set shows a soldier of the Confederate Army of America painting the Battle honours on the flag, being watched by five of his comrades.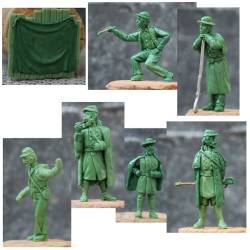 Type
=
Figure Kits, Busts and Accessories
Period =
American Civil War
Scale =
1/72 Scale (22mm or 1 inch)
Material =
Metal Figures Figures- Unpainted
Finish =
Unfinished Metal Figure Kit
Date of Release =
2017-06-26
Status = 2-3 weeks Shipping
This item is not part of our regular inventory but is available to order. Allow 2-3 weeks for item to arrive at MichToy. Because you are so patient you will automatically receive this item at a 20% discount.
MSRP:
$25.99
$20.79
20% off, you save : $5.20