Agrianian Infantry
Manufacture Product Number : EXP-GRK10R

This set includes a Macedonian officer, plus 8 light infantrymen of Agranian/Thracian extraction: 6 javelineers and 2 slingers, with an option for sword action poses or for conversion to other Greek Mercenary light troops.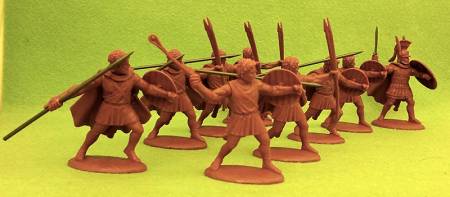 Type
=
Toy Soldiers and Miniatures
Period =
Ancient Greece and Persia
Scale =
1/30 Scale (60mm or 2 1/2 inches)
Material =
Plastic
Finish =
Unpainted
Date of Release =
2016-01-26
Status = Out of Stock
Darn it! This item is currently out of stock. You may order this item now and we will notify you when it's available again.
MSRP:
$36.99