French Dismounted Dragoons (Foot)
Manufacture Product Number : EXP-54-FRN-10

This box-set contains 9 foot models comprising of 1 officer and 8 dragoons (all on foot). This set is designed to complement sets 54 FRN 06-A and 54 FRN 06-B French Line Dragoons (mounted) in the same uniforms with heads and certain parts inter-changeable.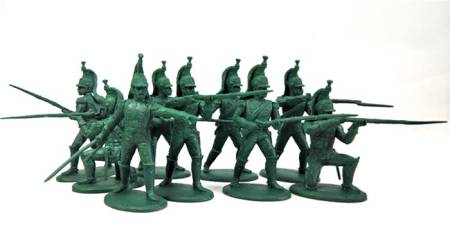 Dragoons are mounted troopers and are often deployed as a rapid mobile force to seize or hold important tactical positions where infantry could not arrive in time. In this role, the Dragoon functions as an infantryman relying on his musket and bayonet. His mount would be kept at the rear and his sword, not useful in a fire-fight, would be kept with the horse.

The Dragoon Officer is not issued the musket and thus does not have the shoulder cartridge belt. His helmet is of a slightly different (more elegant) shape.

Type
=
Toy Soldiers and Miniatures
Period =
Napoleonic Wars
Scale =
1/32 Scale (54mm or 2 1/4 inches)
Material =
Plastic
Finish =
Unpainted
Date of Release =
2020-07-28e
Status = New Release
Normally Stocked, may take up to two weeks for delivery if out of stock. We will notify you of any delays
MSRP:
$36.99