British 95th Rifles
Manufacture Product Number : EXP-54-BRT-11

This box-set contains 9 foot models comprising of 1 officer and 8 riflemen with a set of optional arms to assemble a bugler.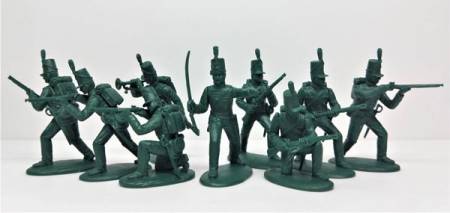 Type
=
Toy Soldiers and Miniatures
Period =
Napoleonic Wars
Scale =
1/32 Scale (54mm or 2 1/4 inches)
Material =
Plastic
Finish =
Unpainted
Expected Date of Release =
TBA
Status = Upcoming release
You may pre order this product at an extra discount of 10-20% (depending on the vendor). You will not be charged until the item arrives.
MSRP:
$36.99