Pin Point Bottle Kit
Manufacture Product Number : DXM-AC10

A small dispensing bottle for minute application of water-based glues such as PVA or tacky glue. Precise fingertip control.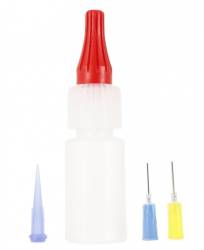 Type
=
Paint, Glues and Finishing Supplies
Category =
Glues
Gluing Accessories
Date of Release =
2016-02-18
Status = 2-3 weeks Shipping
This item is not part of our regular inventory but is available to order. Allow 2-3 weeks for item to arrive at MichToy. Because you are so patient you will automatically receive this item at a 20% discount.
MSRP:
$8.99
$7.19
20% off, you save : $1.80