DA Vinci All Natural Brush Soap and Conditioner , 85 grams
Manufacture Product Number : DAV-4433

Good brushes are a big investment, so why not double their lifespan with this incredible brush conditioner? Da Vinci Brush Soap is an all-natural, chemical-free soap that contains a conditioning agent that won't leave your brushes too dry or brittle. Created by brush makers, this uniquely formulated, 100% pure vegetable-based soap is unlike any other brush soap.


Brushes that have not been cleaned properly lose their interlocking quality after short use. This means that the hair will stand apart. Moreover, the hair and bristles may break at the edge of the ferrule. You can make your brushes last longer by proper cleaning and conditioning.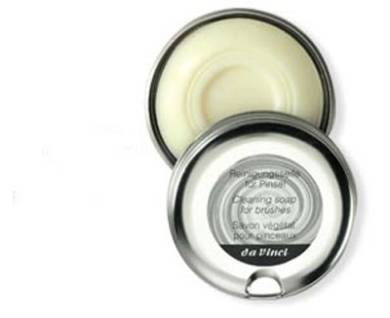 da Vinci Conditioning Brush Soap • 100% Pure Vegetable Based
Make your brushes last longer by proper cleaning and conditioning. Just like your own hair, brushes benefit from moisturizing treatments. Our famous conditioning brush soap based with vegetable oils keeps natural hair and synthetic veers smooth and elastic.

How to Clean & Take Care of Your Brushes
The most important thing is to obey the following fundamental rules:

1. Water-soluble colors should be washed out with water.

2. Acrylic color, as long as it is wet, should be washed out with water; when dried up it can only be dissolved with special cleaning agents.

3. Oil colors should be wiped off thoroughly with a piece of cloth. Afterwards the hair or bristles should be cleaned with a special soap that cleans and maintains the brush head on the basis of vegetable oils through its reconditioning action (our Order No. 4033 and 4433) and warm water until the soap begins to produce white lather. Do not use strongly fat removing soaps or detergents! Especially natural hair tends to break if they are missing their protecting fat contents.

4. To wash out the brush rub the hair body of the brush carefully and remove the remains of pigment that chiefly stick to the edge of the ferrule.

5. Afterwards wipe the brush with a fine piece of cloth and bring it to its original shape. Artists call this procedure "dressing".

6. Let the brush dry completely before you use it again. Don't put it on the radiator to dry. There the hair will dry too quickly, the handle will shrink, and the brush head will come loose.

Type
=
Paint, Glues and Finishing Supplies
Category =
Brushes, Brush Cleaners and Swabs
Date of Release =
2016-03-01
Status = Out of Stock
Darn it! This item is currently out of stock. You may order this item now and we will notify you when it's available again.
MSRP:
$13.99