German Pz.Sp.Wg. 1ZM (i)
Manufacture Product Number : CSM-35008

KIT INCLUDES:
- Transparent parts for headlights
- Rubber wheels
- Engine and interior included
- Cartograf printed decals
- InstructionS in color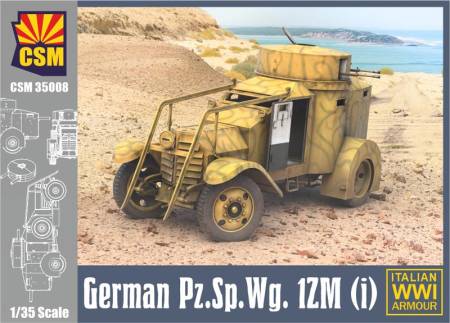 From the late Thirties until the outbreak of WWII, near all of the Lancias were allotted to reserve and/or second-line units or depots (even in North Africa). Although some weaknesses were noted, the Lancias were considered suitable for their role. At the beginning of WW II, the Italian Army had on hand approximately 62 Lancia 1915 and 1917 pattern armoured cars, some were re-armed with Fiat14/35 machine guns and a few others with Breda Safat 7.7 mm – a good weapon from Regia Aeronautica (Italian Air Force) stocks. Only in the very later part of 30's some progress had been made in the general direction of mechanization.

Very few Lancias saw action during the early years of the war, as it rapidly became obvious that their thin armour and poor armament could not face enemy weaponry with immunity. The outbreak of the war in June of 1940 found the Italian armoured units in AOI (Italian East Africa) almost completely unprepared, even for her own defence. Between the few armoured vehicles present in the country were few Lancias

However, the vehicle remained in service throughout the war, until 1943. Only six Lancias were in the armoured car platoon of the 'Battaglione Misto Egeo' (Mixed Battalion, Aegean) at the Psito barracks on the island of Rhodes, under the command of the Italian 'Regina' infantry division. They took part in the confusing events of the armistice in September 1943 and in the confrontation with the Germans, but the crews had to sabotage their vehicles to prevent them from falling into German hands. A few of the armoured cars were lost in the Balkans, but records are scanty. Others vehicles were seized by the Germans after Italy switched sides in 1943 and given the designation of Panzerspähwagen 1ZM (I). They were used almost entirely from February 1944 around Abbazia and Fiume for anti-partisan duties, where their lack of armor protection and firepower would not be as critical. IN 1945 the Lancias was employed in North-East Italy.

Type
=
Models
Period =
World War 1
Scale =
1/35 Scale
Material =
Plastic Kit with Photo-etched Details
Finish =
Unfinished Model Kit
Date of Release =
2022-01-15
Status = Available
This item is Normally Stocked but may take up to two weeks for delivery if not in stock. We will notify you of any delays
MSRP:
$76.99
Our price
$61.59
20% off, you save : $15.40