Marengo & Hohenlinden: Napoleon's Rise to Power
Manufacture Product Number : CBP-5279

In a tense, crowded 33 days in the autumn of 1799, Napoleon Bonaparte organized a coup and made himself dictator of France. Yet his position was precarious. He knew that France would accept his rule only if he gained military victories that brought peace. James Arnold, in this detailed and compelling account, describes the extraordinary campaigns that followed. At Marengo Bonaparte defeated the Austrians, and his fellow general Jean Moreau beat the combined Austrian and Bavarian armies at Hohenlinden. These twin campaigns proved decisive. Bonaparte's dictatorship was secure and his enemies across Europe were forced into a 15-year struggle to overthrow him. 304 page softcover book with 60 black & white illustrations.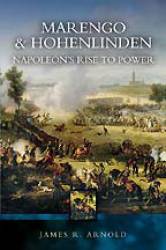 Type
=
Books, Magazines, Catalogs and Videos
Category =
Books- Napoleonic Era
Period =
Napoleonic Wars
Date of Release =
2010-01-01
Status = 2-3 weeks Shipping
This item is not part of our regular inventory but is available to order. Allow 2-3 weeks for item to arrive at MichToy. Because you are so patient you will automatically receive this item at a 20% discount.
MSRP:
$24.99
$19.99

20% off, you save : $5.00