Collecting Toy Soldiers in the 21st Century
Manufacture Product Number : CBP-3738

James Opie's highly popular Collecting Toy Soldiers (1987) was an inspirational book for anyone involved in the hobby. Nearly a quarter of a century on, this is a completely new companion updating the experience for the twenty-first century collector. James now gives the reader the benefit of over thirty years' participation as one of the world's leading authorities on toy soldiers, figures and models, and a lifetime as a collector himself.
View Our Expnded Broduct Spotlight HERE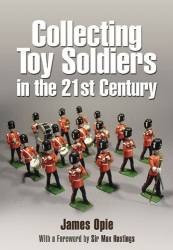 Collecting Toy Soldiers in the 21st Century contains comprehensive advice on all aspects of collecting, fully illustrated with new pictures. The main menu is an exposition of the thousands of different possibilities for pursuing individual fulfillment. Guidance for every budget includes price trends and pitfalls to avoid when buying or selling at auction, shows, on-line or privately. The informative and often-amusing anecdotes are provided from James' own involvement, and illustrate just how satisfying it can be to explore this blend of history, tradition, nostalgia and play, whether on the most grandiose scale or with the most limited of funds.

Type
=
Books, Magazines, Catalogs and Videos
Category =
Books-Toy Soldiers
Material =
Hardcover Book
Date of Release =
2016-09-08
Status = Out of Stock
Darn it! This item is currently out of stock. You may order this item now and we will notify you when it's available again.
MSRP:
$49.99
$39.99

20% off, you save : $10.00