Brush Cleaner & Preserver - 1 oz.
Manufacture Product Number : BNJ-029000100

Cleans, conditions, and preserves your brushes. Works with oils, acrylics, watercolors, varnishes, and glazes. Will restore most hardened brushes to like-new condition. Helps prevent oil and acrylic build-up that causes brush hardening.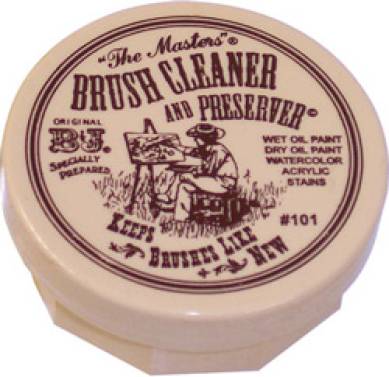 For Cleaning
1. Wipe brush to remove excess paint.
2. Wet brush and/or "The Masters" with water.
3. Swirl brush in "The Masters" and work into a lather.
4. Rinse with clean water.
5. Repeat if necessary until brush is clean (lather will be white). You can clean one color after another without removing the previous colors from "The Masters" first.

For Preserving
1. Clean brushes as above
2. Leave clear lather on bristles, shape and allow to dry.
3. Shake powder off bristles when ready to use again.

For Restoring
1. Clean brush as above, but use hot water.
2. Allow lather to remain on bristles for a few minutes.
3. If necessary, tap bristles on hard surface to work paint out.
4. To clean paint from ferrule, allow lather to remain on the bristles for several hours, and repeat cleaning process.
5. Leave clear lather on bristles, shape, and allow to dry.

Type
=
Paint, Glues and Finishing Supplies
Category =
Brushes, Brush Cleaners and Swabs
Date of Release =
2019-11-03
Status = Out of Stock
Darn it! This item is currently out of stock. You may order this item now and we will notify you when it's available again.
MSRP:
$5.99