WWII Sherman M4 Tank -New OD Green Color
Manufacture Product Number : BMC-67008

From the BMC Toys AMERICAN HERO COLLECTOR SERIES, the workhorse tank of the Allies: The SHERMAN M4 TANK has lots of authentic detail and features a turret that swivels.
Made from stiff, very durable, olive drab green polypropylene plastic with very little flashing, measures 7.5 x 3.5 x 3.75 inches tall and is 1:32nd (54mm) scale.
This tank's official designation is Medium Tank, M4. More than 50,0000 were produced during WW2, and the Sherman Tank was involved with nearly every operational theater of the war.
BMC Toys was founded by Bill McMaster in 1991 and specializes in producing historically accurate plastic army men figures, playsets and accessories in the classic style of the 1950s and 1960s. Packaged in plain polybag and recommended for ages 5 and up. The 2017 release features an all new optional sticker sheet.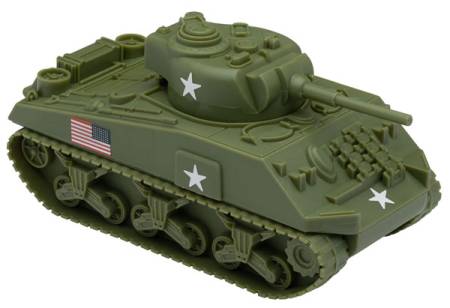 Type
=
Toy Soldiers and Miniatures
Period =
World War 2
Scale =
1/32 Scale (54mm or 2 1/4 inches)
Material =
Plastic
Finish =
Unpainted
Date of Release =
2020-10-08
Status = Out of Stock
Darn it! This item is currently out of stock. You may order this item now and we will notify you when it's available again.
MSRP:
$15.99