Classic Green Plastic Army Men - Lido
Manufacture Product Number : BMC-48585

BMC Toys brings back an American Classic. This bag of 40 Olive Green PLASTIC ARMY MEN is proudly manufactured in the United States. The set features 10 different figures, and all your old favorites are here. Figures stand up to 2.5 inches tall and are approximately 1:29 (60mm) scale. Made from slightly flexible LDPE plastic with medium detail and some flashing.
These figures were originally produced by LIDO in the mid 1950s, then later by Joy Toy, TootsieToy, and Tim Mee. Some figures are very similar to soldiers produced by Marx Toys because Lido and Marx shared the same mold maker. PINEAPPLE helmets depicting camouflage netting is the main difference between them. The soldiers also predate the platform style of army men, so they are easier to tip over in battle.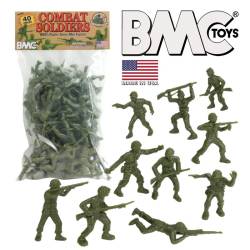 Type
=
Toy Soldiers and Miniatures
Period =
World War 2
Scale =
1/32 Scale (54mm or 2 1/4 inches)
Material =
Plastic
Finish =
Unpainted
Date of Release =
2018-12-08
Status = Out of Stock
Darn it! This item is currently out of stock. You may order this item now and we will notify you when it's available again.
MSRP:
$15.99