Gundam Master Grade Series: Gundam Deathscythe Endless Waltz Version
Manufacture Product Number : BAN-2091973

Following Wing Gundam, next up for the MG remakes is Gundam Deathscythe! This version of the Deathscythe is a fusion between the original suit and the one seen in Endless Waltz. This was built around the same frame as the Wing with some enhancements to certain joints such as the wrists, allowing the Deathscythe to wield his scythe in a variety of poses. Green effect parts are included for the scythe as well as markings from Katoki Hajime. If you don't want those wings taking up space on your display shelf but still want the visual style of the EW version, this kit is the perfect balance!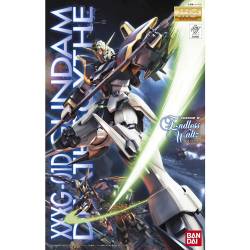 All models are supplied as kits and will need to be assembled and painted.
The picture illustrates how the model should look once completed.
Glue and paint are not included in the kit.

Type
=
Models
Period =
Space and Sci-Fi
Scale =
1/100 Scale
Material =
Plastic
Finish =
Unfinished Plastic Figure Kit
Date of Release =
2022-10-27z
Status = Out of Stock
Darn it! This item is currently out of stock. You may order this item now and we will notify you when it's available again.
MSRP:
$59.99
Our price
$47.99
20% off, you save : $12.00