Apoxie Sculpt 4 lb. White
Manufacture Product Number : AVSR-AS-4WHId

Offers economy as well as performance. 0% shrinkage & waterproof! Sticks to any clean surface. Working time is 2-3 hours. Simple water clean-up. Cures hard overnight and has a flat finish to make repairs and painting easier. Can be tooled before or after set-up.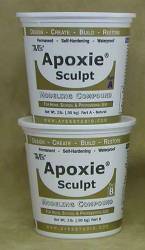 Type
=
Paint, Glues and Finishing Supplies
Category =
Putties, Fillers and Modeling Clays
Date of Release =
2010-01-01
Status = Out of Stock
Darn it! This item is currently out of stock. You may order this item now and we will notify you when it's available again.
MSRP:
$54.99
54.99