USAF Navy Grey Fighters Solution Box
Manufacture Product Number : AMIG-7709

With this guide, you can paint American jet fighters as well as any other aircraft that uses these camouflage schemes. Although we have chosen an F-15D as an example for this step-by-step guide, the same processes can be applied using exactly the same sequence and methods to any other American aircraft including the F-14, F-15, F-16, F-18, A-7, AV-8B, A-10, and many more. The box also includes the basic colours for painting landing gear and cockpits. Simply grab your favourite model and start painting without further delay!
SOLUTION BOX is a simple and comprehensive system providing you with everything required to paint and weather your models. This includes both the application of the primer layer and the camouflage colours, as well as the different painting and weathering effects. The correct products and colours are included for applying filters, washes, fading and highlights with oils, streaking, chipped paint, dust, dirt and mud, and even oil and fuel stains.
This box includes everything except the model kit!!! A great idea and solution for every beginning modeller and those experienced modelers that enjoy the accuracy and convenience provided by the Solution Box.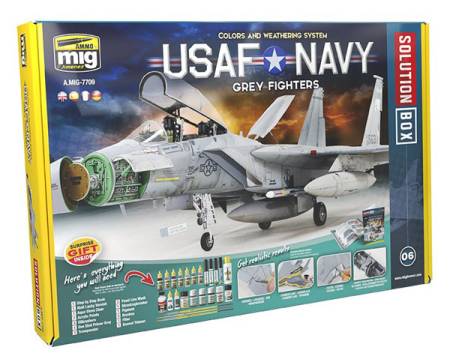 Products included:
A.MIG-0046 Matt Black
A.MIG-0203 Light Compass Ghost Gray
A.MIG-0204 Medium Gunship Gray
A.MIG-0208 Dark Compass Ghost Gray
A.MIG-0209 Light Gray
A.MIG-0210 Gray Blue
A.MIG-0211 Medium Gray
A.MIG-1251 Streakingbrusher Cold Dirty Grey
A.MIG-1502 Dark Grey for White
A.MIG-1601 PLW Medium Gray
A.MIG-1602 PLW Deep Gray
A.MIG-1611 PLW Black Night
A.MIG-2016 Transparator
A.MIG-2018 Enamel Odourless Thinner
A.MIG-2022 One Shot Primer White
A.MIG-2054 Ultra Matt Lucky Varnish
A.MIG-3011 Airfield Dust
A.MIG-3500 Black
A.MIG-3501 White
A.MIG-3513 Starship Filth
A.MIG-8212 Aqua Gloss Clear
A.MIG-8590 3/0 Synthetic Liner Brush
A.MIG-8610 5/0 Synthetic Round Brush
A.MIG-8615 4 Synthetic Round Brush

Type
=
Paint, Glues and Finishing Supplies
Category =
Weathering, Washes, Pigments and Effects
Date of Release =
2019-12-25
Status = Out of Stock
Darn it! This item is currently out of stock. You may order this item now and we will notify you when it's available again.
MSRP:
$109.99