Armor Models-Panzer Aces Magazine Issue 33
Manufacture Product Number : AMD-99333

Otter, An excellent work made from scratch which includes blueprints, piece details and a full photographic review of the real vehicle; Tamiya, XS Projects 1:35 Kübelwagen; The Bull & the Leopard: A vignette that features on a 1/35 scale the classic Osborne bull; Daimler Dingo Mk. I, Small British armored vehicle in 1:35 scale by MiniArt; Sturmtruppen, 1916, Soldiers 1:32; WWI trench: A step by step rendition of a trench, gradually photographed.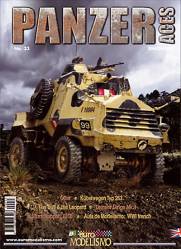 Type
=
Books, Magazines, Catalogs and Videos
Category =
Magazines- Modeling Armor
Material =
Paper
Date of Release =
2010-07-24
Status = 2-3 weeks Shipping
This item is not part of our regular inventory but is available to order. Allow 2-3 weeks for item to arrive at MichToy. Because you are so patient you will automatically receive this item at a 20% discount.
MSRP:
$17.99
$14.39
20% off, you save : $3.60