Armor Models/Panzer Aces Magazine Issue #30
Manufacture Product Number : AMD-99330

StaghoundMk. III - A well balanced composition with a vehicle, some figures and a ground piece executed and painted with the highest skills.
Panzer IV Ausf. C - An interesting version of the famous German armored vehicle with an interesting camouflage scheme.
Steyr 1500A Kommandeurwagen - A high quality scene set in Normandy, where the author demonstrates how we can use very little space to tell part of a story.
Soviet Tank Crewman - Portrait of a Russian tank driver right after the liberation of their national territory.
MODELLING LESSONS: US Tank Crew - A step by step review of acrylic painting techniques on a 1/35 scale figure.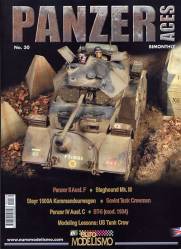 Type
=
Books, Magazines, Catalogs and Videos
Category =
Magazines- Modeling Armor
Date of Release =
2010-01-01
Status = 2-3 weeks Shipping
This item is not part of our regular inventory but is available to order. Allow 2-3 weeks for item to arrive at MichToy. Because you are so patient you will automatically receive this item at a 20% discount.
MSRP:
$17.99
$14.39
20% off, you save : $3.60