Wings of Glory: Tripods and Triplanes - MkIII Squid Tripod Pack
Manufacture Product Number : AGS WGF803A

Agile and deadly, the "Squid" is one of the most lethal weapons of the Martian invaders. Its arrival often is a warning of the coming of a massive assault of the Tripods, but one of these scouts is well able to destroy Earthlings by himself.
Each WW1 Wings of Glory - Tripods & Triplanes Expansion Pack includes all you need to play with it - a pre-painted and fully assembled model, a deck of maneuver cards, counters, and a tripod reference card.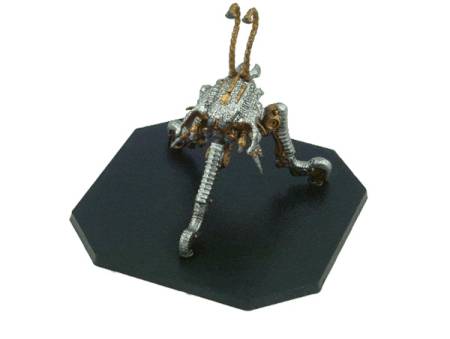 In Wings of Glory — Tripods & Triplanes, the knights of the air of WW1 battle against colossal fighting machines sent by the Martians to invade Earth. Take control of an awesome Martian Tripod, set upon bringing death and destruction on our planet… or fly on the most advanced flying machines created by Mankind during World War One, and try to use them to win the War of the Worlds. Tripods & Triplanes is a new, stand–alone game, fully compatible with the WW1 Wings of Glory collection. Tripods & Triplanes introduces a new twist to the game, as the historical setting is turned upside down by the crossover with H.G. Wells' imaginative novel "The War of the Worlds". In Tripods & Triplanes, what should be the final year of the war becomes the Year of the Invasion. Two different generations of Tripods, one more advanced than the other, land on Earth, in two waves of invasion. Their alien technology and deadly weapons make them terrifying opponents for the Earthlings… Fortunately, the recent advances in weapon technology during WW1 give Mankind a fighting chance against these monstrous invaders...

Type
=
Wargaming
Category =
Wargaming Rules and Systems
Period =
Space and Sci-Fi
Scale =
1/144 Scale
Material =
Plastic
Finish =
Pre-painted
Date of Release =
2019-10-02
Status = Available
This item is Normally Stocked but may take up to two weeks for delivery if not in stock. We will notify you of any delays
MSRP:
$19.99