Wings Of Glory WWI Miniatures: RAF Se.5a (McLudden)
Manufacture Product Number : AGS WGF124C

Designed to be used with the popular air combat game system created by Andrea Angiolino and Pier Giorgio Paglia, each WW1 Wings of Glory® Airplane Pack is a ready-to-play model, painted and assembled, 100% compatible with any other WW1 Wings of Glory game product.
In each pack you will find all you need to play with the airplane: a special base with gaming stats, a variable altitude flying stand, and a specific deck of maneuver cards.
Contents of Pack: one 1/144 scale model, flight stand with game stats, 4 altitude stands, airplane card, maneuver cards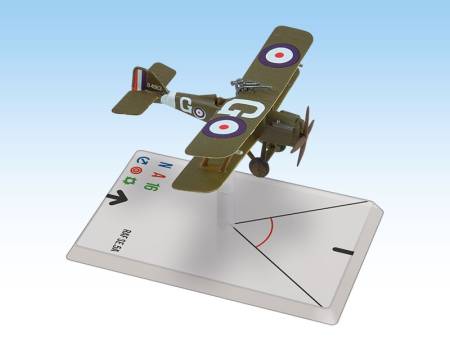 The RAF SE.5 fighter (quickly becoming the SE.5a) was one of the aircrafts that turned the air war around for the Allies. Both fast and maneuverable, it was easy to fly and an excellent gun platform, as demonstrated by the many aces who scored most of their victories in the airplane. Though engine problems inhibited its early success, once they were solved, it became one of the best fighters of the entire War, able to match or beat anything the Germans flew. Over 5000 aircrafts were produced.
Raf SE.5a (McCudden)
James McCudden began the war as an observer and became the most highly decorated Allied airman, a precise and patient pilot that achieved 57 victories, most of which came flying in the glorious SE.5a.

Type
=
Wargaming
Category =
Wargaming Rules and Systems
Period =
World War 1
Scale =
1/144 Scale
Material =
Plastic
Finish =
Pre-painted
Date of Release =
2019-09-07
Status = Out of Stock
Darn it! This item is currently out of stock. You may order this item now and we will notify you when it's available again.
MSRP:
$15.99