Wings Of Glory WWI Miniatures: Pfalz D.III (Voss)
Manufacture Product Number : AGS WGF123C

Designed to be used with the popular air combat game system created by Andrea Angiolino and Pier Giorgio Paglia, each WW1 Wings of Glory® Airplane Pack is a ready-to-play model, painted and assembled, 100% compatible with any other WW1 Wings of Glory game product.
In each pack you will find all you need to play with the airplane: a special base with gaming stats, a variable altitude flying stand, and a specific deck of maneuver cards.
Contents of Pack: one 1/144 scale model, flight stand with game stats, 4 altitude stands, airplane card, maneuver cards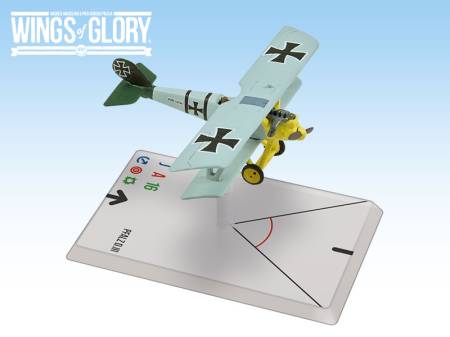 The Pfalz D.III began front–line service in August, 1917. Though its construction techniques gave it a light air frame, the Pfalz was known for being both sturdy and a little slow on the controls. Poor in climbing, it was an excellent diving airplane and popular to use for balloon attacks. The D.IIIa version solved many of the problems, with guns repositioned to assist pilot in clearing weapons of jams, and made up the majority of the 1100 airplanes built by war's end, with most of them flown by Bavarian Jastas.
Pfalz D.III (Voss)
Werner Voss was a very remarkable pilot that deserved many awards for his numerous enemies shot down in combat (48 victories), and a good friend of Manfred Von Richtofen.

Type
=
Wargaming
Category =
Wargaming Rules and Systems
Period =
World War 1
Scale =
1/144 Scale
Material =
Plastic
Finish =
Pre-painted
Date of Release =
2019-09-07
Status = Out of Stock
Darn it! This item is currently out of stock. You may order this item now and we will notify you when it's available again.
MSRP:
$15.99