Wings of Glory WWI: Nieuport 11 (De Turenne)
Manufacture Product Number : AGS WGF122B

The Nieuport 11 "Bébé" was a French single seat fighter aircraft. Reaching the front in early 1916, it outclassed its German opponent, the Fokker Eindecker. It ended the dominance of German aviation, known as the "Fokker Scourge," and gave air superiority to France during the battle of Verdun. The Nieuport 11 performed well in combat thanks to its excellent inherent speed, rate–of–climb, and agility. This successful airplane, however, had one limitation – its lack of a synchronized machine gun, which hampered its offensive capabilities.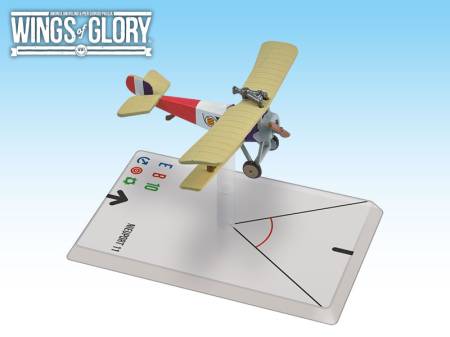 Nieuport 11 (De Turenne)
Armand de Turenne, a cavalryman before entering the French air force, proved himself a true "knight of the air," sharing his victories with no less than 15 other pilots.

Type
=
Wargaming
Category =
Wargaming Rules and Systems
Period =
World War 1
Scale =
1/144 Scale
Material =
Plastic
Finish =
Pre-painted
Date of Release =
2016-04-16
Status = Out of Stock
Darn it! This item is currently out of stock. You may order this item now and we will notify you when it's available again.
MSRP:
$15.99