Fokker E.V - Sharon
Manufacture Product Number : AGS WGF119C

Contents:
- One 1/144 scale model
- Flight stand with game stats
- 4 altitude stands
- Airplane card
- Maneuver cards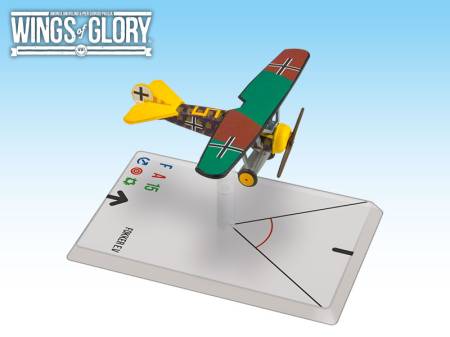 The Fokker E.V was a German monoplane fighter aircraft designed by Reinhold Platz and built by Fokker-Flugzeugwerke.
The E.V was the last Fokker design to become operational with the Luftstreitkräfte, entering service in the last months of World War I. After several fatal accidents due to wing failures, the aircraft was modified and redesignated Fokker D.VIII, and it had the distinction of scoring the last aerial victory of the war. It was flown by famous aces such as Erich Lowenhardt, Theodor Osterkamp and Karl Sharon.

Type
=
Wargaming
Category =
Wargaming Rules and Systems
Period =
World War 1
Scale =
1/144 Scale
Material =
Plastic
Finish =
Pre-painted
Date of Release =
2017-03-17
Status = Out of Stock
Darn it! This item is currently out of stock. You may order this item now and we will notify you when it's available again.
MSRP:
$15.99