Wings of Glory: Nieuport 17 (Baracca)
Manufacture Product Number : AGS WGF117A

Contains:
One 1/144 scale model
Flight stand with game stats
4 altitude stands
Airplane card
Maneuver and special cards
The Nieuport 17 was a nimble fighter, first released in March 1916. Its excellent maneuverability made a big impact. It soon equipped all of the French fighter squadrons, served as a top British fighter for a year, and was even copied by the Germans! The "sesquiplane" design (a "half" lower wing) gave excellent climb and visibility, but was a weakness in stressful maneuvers. A favorite of aces, the Nieuport 17 was produced in France, Italy, and Russia and used by all Allied armies until late 1917.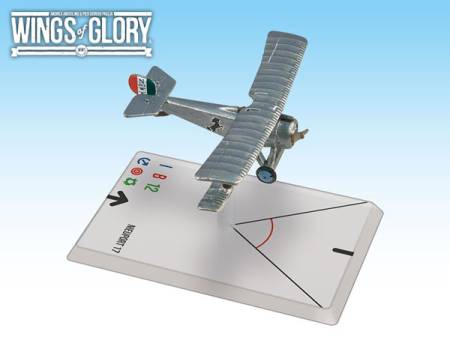 Designed to be used with the popular air combat game system created by Andrea Angiolino and Pier Giorgio Paglia, each WW1 Wings of Glory Airplane Pack is a ready-to-play model, painted and assembled, 100% compatible with any other WW1 Wings of Glory game product. In each pack you will find all you need to play with the airplane: a special base with gaming stats, a variable altitude flying stand, and a specific deck of maneuver cards.

Type
=
Wargaming
Category =
Wargaming Rules and Systems
Period =
World War 1
Scale =
1/144 Scale
Material =
Plastic
Finish =
Pre-painted
Date of Release =
2017-06-08
Status = Out of Stock
Darn it! This item is currently out of stock. You may order this item now and we will notify you when it's available again.
MSRP:
$15.99