Wings Of Glory WWI Miniatures: Fokker DR.I (Kempf)
Manufacture Product Number : AGS WGF104D

Designed to be used with the popular air combat game system created by Andrea Angiolino and Pier Giorgio Paglia, each WW1 Wings of Glory® Airplane Pack is a ready-to-play model, painted and assembled, 100% compatible with any other WW1 Wings of Glory game product.
In each pack you will find all you need to play with the airplane: a special base with gaming stats, a variable altitude flying stand, and a specific deck of maneuver cards.
Contents of Pack: one 1/144 scale model, flight stand with game stats, 4 altitude stands, airplane card, maneuver cards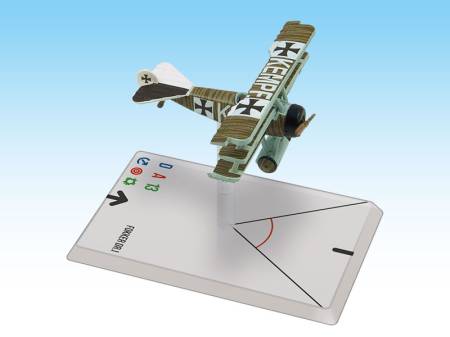 The Fokker Dr.I was a triplane built by Fokker-Flugzeugwerke during the First World War. The design, based off of Britain's Sopwith Triplane, is well known thanks to the Red Baron, Manfred von Richthofen, for being the plane in which he scored his final last 19 victories. The Dr.I offered exceptional maneuverability, due to the rudder and elevator controls that were light and powerful, and thanks to aces that piloted it covering themselves in glory, has become the most famous and iconic airplane of WW1.
Fokker DR.I (Kempf)
Friedrich "Fritz" Kempf scored four victories flying with the "Jasta Boelcke" on his Fokker Dr.I, and he was noted especially for his personal marking on his aircraft "Kempf — Do you still know me".

Type
=
Wargaming
Category =
Wargaming Rules and Systems
Period =
World War 1
Scale =
1/144 Scale
Material =
Plastic
Finish =
Pre-painted
Date of Release =
2019-06-18
Status = Out of Stock
Darn it! This item is currently out of stock. You may order this item now and we will notify you when it's available again.
MSRP:
$15.99