Sails of Glory - British: 64-guns Third Rate Ships-of-the-Line - HMS Polyphemus 1782/ HMS America 1777
Manufacture Product Number : AGS SGN114B

Each Sails of Glory™ Ship Pack is a ready-to-play model, painted and assembled, 100% compatible with any other Sails of Glory game product.
In each pack you will find all you need to play with the ship: a special base with gaming stats, a ship log and a specific deck of maneuver cards. The ship base, ship card and ship log are printed on two sides – The game data of a second ship is printed on the back.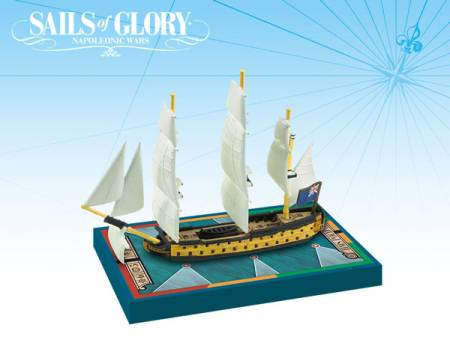 The Intrepid–class ships were designed for the Royal Navy by Sir John Williams. These ships were armed with 26 24–Pounder guns in the gundeck, 26 18–Pounder guns in the upperdeck, 10 4–Pounder guns in the quarterdeck, and 2 9–Pounder guns in the forecastle.
HMS Polyphemus was laid down at Sheerness in 1782 and commissioned in 1799 under the command of Captain G. Lumsdaine. She sailed in the North Sea Fleet on the Baltic Sea until 1802. In 1805, Capt. Robert Redmill commanded her in the Battle of Trafalgar, where she engaged the French ships Neptune and Achille and captured the Spanish ship Argonauta. She was later in service along the French coast and in the Americas.
This ship pack can also be used to represent the British Intrepid class ship of the line "HMS America 1777".

Type
=
Wargaming
Category =
Wargaming Rules and Systems
Period =
Napoleonic Wars
Scale =
1/1000
Material =
Plastic
Finish =
Pre-painted
Date of Release =
2017-10-19
Status = Available
This item is Normally Stocked but may take up to two weeks for delivery if not in stock. We will notify you of any delays
MSRP:
$21.99