Amazing Figure Modeler no. 59 Hammer Horror
Manufacture Product Number : AFM-59

You're invited to get "Hammered" as Amazing Figure Modeler magazine takes a bite outta the U.K.'s leading exporter of spine-tingling horror by paying tribute to Hammer Studios! The modeled blood will run red as your blood runs cold to the sinister likes of Christopher Lee's Dracula, Peter Cushing's Baron Frankenstein, Oliver Reed's Werewolf and a heaping dose of Hammer Glamor with Ingrid Pitt, Veronica Carlson and many other rogues of resin! Their next issue will hit the nail on the head as Hammer aficionado Stewart Jackson picks the best of the best for a gathered gallery of classic Hammer plastic! So board up the castle and pack a cross, it's time to head across the pond for issue #59 of AFM, where the accent is on horror - Hammer Horror!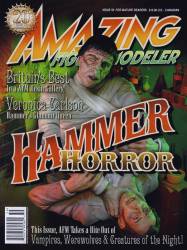 DEADITORIAL:
A guest editorial from George Stephenson, owner of Black Heart Models.

CONSTRUCTION ZONE
Our reviewing team takes on an all new batch of resin and vinyl figures.

THE COUNTESS: Jeff Camp
Jeff strips down with Titan's Ingrid Pitt pre-painted bust!

THE REPTILE: Steve Parke
Black Heart Models' life-sized Reptile bust slithers its way into Steve's black heart!

THE CURSE OF FRANKENSTEIN: Mike Hill
Sculptor Mike Hill returns to the pages of AFM and brings Christopher Lee's creature to life with not a stitch to spare!

AFM PROFILE: VERONICA CARLSON
Hammer's leading lady speaks with Jim Bertges.

IT CAME FROM THE GARAGE: Terry J. Webb
The latest releases on the Garage Kit scene.

ONE MILLION YEARS B.C.: Thad Rhodes
Things get a little hairy when Thad gets his hands on Ray Santoleri's Raquel Welch cave girl!

HAMMER HORROR GALLERY: Stewart Jackson
Stewart selects some of the best examples of Hammer themed model kits, movie by movie!

THE EVIL OF FRANKENSTEIN: Jason Walker
XO-Facto's creature lumbers across Jason's workbench!

CURSE OF THE WERWOLF: Jon Giancola
Jon gives Gillman Production's Oliver Reed the full on-full moon treatment!

DRACULA: Steve Riojas
Steve goes all "Van Helsing" on Resin Crypt's Christopher Lee Dracula tribute!

MODELMANIA™ : THE CURSE OF FRANKENSTEIN
David Fisher pieces things together in Forbidden Zone's Frankenstein laboratory!

Type
=
Books, Magazines, Catalogs and Videos
Category =
Magazines- Figure Modeling
Material =
Magazine
Date of Release =
2018-06-09
Status = Out of Stock
Darn it! This item is currently out of stock. You may order this item now and we will notify you when it's available again.
MSRP:
$10.00