Amazing Figure Modeler Issue 53
Manufacture Product Number : AFM-53

For issue #53, it's time to grab your mask and pillowcase and head out into the neighborhood for a beggar's night excursion that'll be nothing but modeling tricks and figural treats! That right kids, it's Halloween time and the AFM house is handing out some of the sweetest resin and plastic candy on the block.

First, Steve Riojas will scare the yell out of you with a porch diorama that'll feature Kreature Kid's awesomely cool "Halloween Nightmares" gang.

Next, David Fisher takes an eye of newt and wing of bat to Tweeterheads' "Home Cookin," an epic Salem Witch kit that's certain to put a spell on you.

Mike Reagan will be off masquerading with Dimensional Designs' "Don Post Mask Ad" kit while Dave Prosser takes a stab at the Polar Lights "Michael Myers" model.

The AFM Artist Profile covers the triple threat talent of Casey Love's GK, Mask and Film careers, plus what would a Halloween issue be without an article on sculpting pumpkins! Yes trick or treaters, all this sugary goodness plus more models, reviews and stunning photography await readers in the blackened pages of America's one and only figure kit magazine, Amazing Figure Modeler!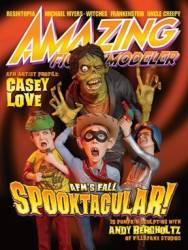 EDITORIAL:
A guest editorial from AFM writer Jason Walker.

CONSTRUCTION ZONE
Our reviewing team takes on an all new batch of resin and vinyl figures.

THE FRANKENSTEIN MONSTER: Dan Colonna
It's Alive, ALIVE we tell 'ya!!! Dan jolts a spark of life into Earthbound Studio's 1931 Monster!

THE NIGHT HE CAME HOME: Dave Prosser
Dave shows us a few tricks as well as treats with Polar Light's Michael Myers styrene kit.

3d PUMPKIN CARVING!: Andy Bergholtz
Ffrom the sincerest pumpkin patch of Ray Villafane Studios, the Great Pumpkin arises with help from Andy Bergholtz.

CREEPED OUT!: JIM LAWRENCE
Jim blurs the line between latex and resin with tips on how to repaint a Halloween mask!

1313 MOCKINGBIRD LANE: Thad Rhodes
The Munsters House gets a little deluxe landscaping courtesy of Thad Rhodes and Moebius Models!3

IT CAME FROM THE GARAGE: Terry J. Webb
The latest releases on the Garage Kit scene.

HALLOWEEN NIGHTMARES: Steve Riojas
Three trick or treaters get a little more than they bargained for with Steve's humorous and nostalgic diorama featuring figures from Adam "Kreature Kid"!

AFM SPOTLIGHT - RESINTOPIA: George Ganzer
AFM takes a look at Resintopia's inaugural show!

HOLLYWOOD MASKS: Mike Reagan
Ter Prince's Don Post Masks tribute gets a facelift with a little (make that a lot!) of help from Mike Reagan and Dimensional Designs!

AFM ARTIST PROFILE - CASEY LOVE: Phil Sera
"Mr. October" Casey Love gives AFM readers an exclusive look at his model kits, masks and effects work!

MODELMANIA™ - SPELLBOUND: David Fisher
David is bewitched by Tweeterhead's Home Cookin'!


Type
=
Books, Magazines, Catalogs and Videos
Category =
Magazines- Figure Modeling
Material =
Paper
Date of Release =
2015-05-31
Status = Out of Stock
Darn it! This item is currently out of stock. You may order this item now and we will notify you when it's available again.
MSRP:
$8.00