French & Indian War: British Infantry (12 pcs.)
Manufacture Product Number : TTZ-FIW11

Two Trees offers high quality 30mm scale traditional tin figures. Starting in Germany in the 1700s, "zinnfiguren" or "flats," the two-dimensional figures can be considered to be the original toy soldier. All Two Trees figures are made in Germany or France and stand about 1 1/4" tall for foot figures with mounted figures at about 1 3/4" long and 2" tall. This scale is small enough to allow large numbers of figures to be displayed in a small space while maintaining a great degree of detail.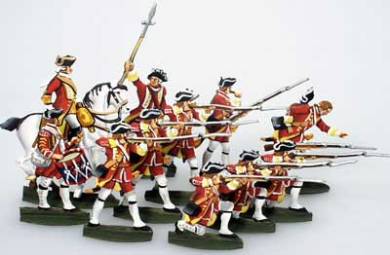 Type
=
Toy Soldiers and Miniatures
Period =
French and Indian War and Seven Years War
Scale =
30mm
Material =
Metal Figures
Finish =
Matte
Date of Release =
2014-12-03
Status = Back Ordered by Manufacturer
This item is on back order from the manufacturer and arrival date is unknown. You may order this item now and we will notify you when it's available.
You will receive a 15% discount for this item.
MSRP:
$80.00
Back Ordered by Manufacturer
Upcoming release
20% competitive overwriting
$80.00