Vintage Elastolin Composition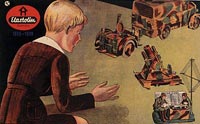 Original Elastolin-Hausser Composition Figures and Accessories.
These items were produced prior to World War II. After the war the western series was reintroduced. The military figures were reintroduced after the war but the heads were changed to have US or Swiss style helmets. No German army figures were produced after the war. The last figures produced in Composition were made in the early 1960s.

We Buy, Sell, and Accept Consignments of Collections and Accumulations of New & Old Toy Soldiers, Historical Miniatures, Historical Reference Books, Militaria, Vintage Toys and Related items. Please call toll free 1-888-642-4869 or email michtoystaff@michtoy.com to get a quote or for our consignment terms and conditions.
Records 1 to 0 for 0 found