Britains Vintage Metal Figures and Accessories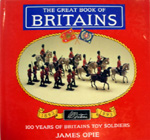 The W. Britain brand name of toy and collectable soldiers is derived from a company founded by William Britain Jr., a British toy manufacturer, who in 1893 invented the process of hollow casting in lead, and revolutionized the production of toy soldiers. The company quickly became the industry leader, and was imitated by many other companies. Style and scale of Britain's figures became the industry standard for toy soldiers for many years.

We Buy, Sell, and Accept Consignments of Collections and Accumulations of New & Old Toy Soldiers, Historical Miniatures, Historical Reference Books, Militaria, Vintage Toys and Related items. Please call toll free 1-888-642-4869 or email michtoystaff@michtoy.com to get a quote or for our consignment terms and conditions.