W Britain Collection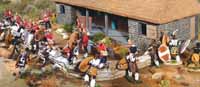 The Zulu War series that was first released in 2007 focused on the iconic action at Rorke's Driftwhere a handful of British troops held out against overwhelming odds a Zulu assault by thousands of warriors. The buildings, compound and personalities made famous in film and lore have all been recreated in exacting 1:32nd scale detail. The series then moved on to Isandlwana, the tragic defeat of a large contingent of British troops at the hands of a Zulu army of more than 15,000 warriors. Once again, the British camp at Isandlwana has been painstakingly recreated in miniature so most of the battle or small vignettes could be recreated to tell the tory of this star crossed British invasion of Zululand.

Britains is a MTSC Bonus Company. Get a free $10.00 Gift Card with every $100.00 of WBN products you order!
Records 1 to 20 for 20 found