W Britain Collection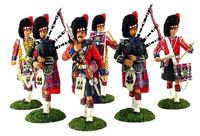 The Museum Collection is a series of matte finish figures in handsome, easy-to-see packaging that features the detailed figure inside. These are highly realistic, historically accurate 1:32nd scale (56mm/2 1/4") matte painted pewter figures.
Britains is a MTSC Bonus Company. Get a free $10.00 Gift Card with every $100.00 of WBN products you order!
Records 1 to 23 for 23 found