Epic Battles: American Civil War Wagon
Manufacture Product Number : WLG 315114008

This wagon can be used to represent either a US Army supply wagon or a Rebel one. Often wagons would be employed to support artillery batteries. These models add extra flavour to a battlefield, whether in support of your artillery along with a limber or simply to dress the battlefield. You could even use multiples to represent a key battlefield objective in certain scenarios.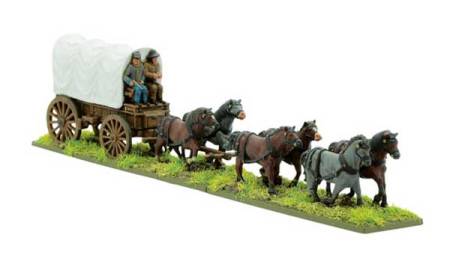 Type
=
Wargaming
Figure Kits, Busts and Accessories
Category =
Wargaming Vehicles and Miniatures
Period =
American Civil War
Scale =
15mm (.6 inches or 1/100 Scale)
Material =
Metal Figures Figures- Unpainted
Finish =
Unfinished Metal Figure Kit
Expected Date of Release =
TBA
Status = Upcoming release
You may pre order this product at an extra discount of 10-20% (depending on the vendor). You will not be charged until the item arrives.
MSRP:
$21.99